Utilize your camper all year long remaining comfortable in extreme heat or cold temperatures with the Lance Four Seasons Certified option that includes along with standard dual pane windows and advanced ducted heating: water heater bypass and winterizing valve, insulated hatch covers, heated tanks and insulated bed pad.
Dual pane windows
Dual pane windows are proven in their insulating properties. Not only do they increase the "R" value, they look great and offer more sound proofing over standard windows. The dark tint also repels heat and protects interior fabrics.
Water Heater Bypass
The water heater features a bypass and winterizing valve to make storing of your camper easy. This feature protects your system for optimal performance and longer-life.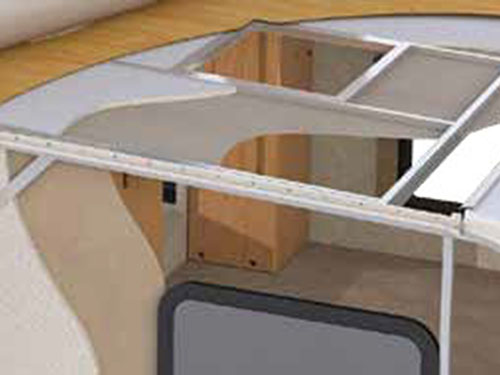 Azdel
Further improving insulation is the use of Azdel which is a Thermoplastic composite product that eliminates wood from Lance camper walls. as a result, rot, mold and mildew are all but eliminated while simultaneously increasing the "R" value and sound proofing.
Insulated Hatch Covers
If you are in a colder climate, these snap-on insulated hatch covers make a huge difference in keep the heat in your RV, and the cold out. If you are camping all four seasons - this is a must have option.
Ducted Heating System
Lance features an advanced ducting system for optimal heat distribution. Unlike most RV manufacturers, Lance spends a lot of time engineering the most efficient ducting routes so your camper does not have hot or cold spots, resulting in even temperature throughout. The holding tanks are included in this this system, which is unique to Lance products.